This page or section is incomplete. You can help by adding to it.
There are several slightly different versions, most of them not essential
For more information, see the help files, the style guide, and this article's talk page.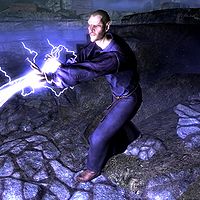 Vaermina Devotees are worshippers of the Daedric Prince Vaermina. They reside in Nightcaller Temple protecting the Skull of Corruption. However, when an Orc war party attacked the temple they released the Miasma, a gas that put everybody to sleep. After Erandur unsealed the temple so he could destroy the Skull of Corruption, the Miasma lifted and the Orcs and devotees began to reawaken.
The devotees wear Vaermina robes and a pair of boots. They carry a leveled potion of restore magicka and one sample of a common-type ingredient.
Related Quests
Edit
Quest-Related Events
Edit
Waking Nightmare
Edit
As they wake up they can say:
"...w...what happened? Wait! We're still under attack!"
"...the Miasma... They're still here! Stop them!"
"...dreaming... Defilers! Kill the defilers!"