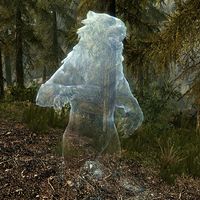 The Ursine Guardian is a spectral bear located in the woods near Twilight Sepulcher.
To reach the plateau that the bear is found on, follow the gully to the north and when you reach the cliff wall turn south. The guardian will appear in the center of a fairy circle comprising eight white cap mushrooms. Details can be found here, under smaller places of interest.
Related Quests
Edit
Despite being spectral in appearance, the guardian spirits seem to retain all aspects of their represented species and are killable with normal weapons. They leave behind ghostly remains, but the loot table matches their represented species as well.
It will not appear until you are actually on the part of the quest that asks you to hunt it.
Like living bears, it is capable of transmitting Bone Break Fever.
Southeast of the Guardian Bear, on a nearby lookout overseeing the forest below, is a Shrine of Akatosh, two Dragon's Tongue, a potion, and the enchanting skill book A Tragedy in Black.