Unique Item: Torturer's Hood

(

00

0ee5c0

)



Type
Light Helmet
Editor ID
ArmorTorturerHood
Statistics
 Rating
13
 Weight
1
 Value
10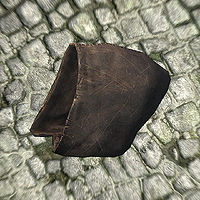 A Torturer's Hood is a helmet used by certain dubious figures, such as the torturer encountered in Helgen. It shares its appearance with a generic Thieves Guild Hood. This item is marked as "unplayable" and cannot be obtained in the original release of the game, but can be legitimately obtained and used in the Special Edition.
Randomly encountered Thieves in the wilderness have a 50% chance to be wearing this or a mage's hood.
The hood can be enchanted, meaning you can wear up to three enchanted headgear items due to the bug mentioned below. It can not be improved on a workbench however.