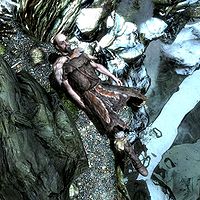 Thomas, a Breton bandit wizard, was an unlucky adventurer who tried to climb down a hole into Bleak Falls Barrow to kill a troll. Unfortunately he slipped and landed on a ledge, which killed him. His body can be found when looking up the walls in the brightly lit room with the bridge and the waterfall.
He wears a set of fur armor and a pair of leveled boots (up to scaled quality), and is equipped with an iron dagger. He carries a note, has a 25% chance of carrying a lockpick, and has a 25% chance of carrying 2-9 gold. Looting Thomas is not straightforward as there is no way to get to the place he died. It is however possible to get his corpse down with shouts, arrows or a raise dead spell.
Thomas knows the Alteration spell Oakflesh, the Destruction spells Flames, Frost, and Sparks, and the Restoration spells Healing and Lesser Ward. He also knows Magicka Recovery 2.
Thomas will only be present if you have reached at least level 18. This is the first level at which the enemy found on the bridge below will be a frost troll instead of a draugr. If you completed Bleak Falls Barrow before then and return later when you have reached level 18, his body as well as the rope and frost troll will appear.
Despite his note stating that he knows Fireball, he does not.