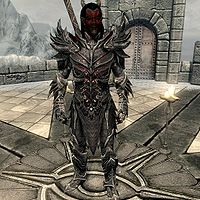 Summons an unbound Dremora for 999 seconds.
Summon Unbound Dremora is a Conjuration spell that summons an unbound Dremora. It can only be cast in one location, atop the Hall of Attainment in the College of Winterhold, and only during the Conjuration Ritual Spell quest.
Other summons will not be dispelled when you cast this spell.