This article is about the bandit in Eldergleam Sanctuary. For the child in random encounters, see Sond (child).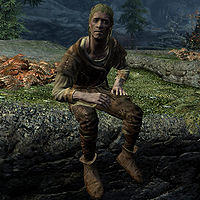 Sond is a Nord bandit who can be found in the Eldergleam Sanctuary. During the related quest, he along with Asta will warn you not to desecrate the Eldergleam, otherwise you will face consequences brought about by Kynareth.
He wears a belted tunic and a pair of boots. He carries a leveled one-handed weapon which can be up to elven in quality along with a small amount of gold.
Sond will greet you with: "Welcome to Eldergleam Sanctuary, my friend. If you have any questions, speak to Asta." and "Kynareth humbles us with her beauty." Once you strike the Eldergleam's roots with Nettlebane, however, he'll change his tone: "Don't come any closer. I don't want Kynareth to think I'm on your side."
Related Quests
Edit
If he is killed during The Blessings of Nature, his body will persist indefinitely due to missing stages in the quest script to track his death.
He is a unique NPC and is therefore unnecessarily flagged to respawn in the game data.