Snowberries
00

01b3bd

4
0.1
Alchemy Effects
1st
 Resist Fire
2nd
 Fortify Enchanting
3rd
 Resist Frost
4th
 Resist Shock
Sources
# Samples
142
Plant
Snowberry
# Plants
1578
Garden HF
4
Merchant Avail.
Common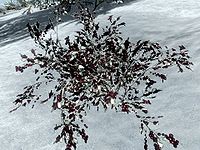 Snowberries are harvested from the snowberry plant, which is commonly found near the snowline. Snowberries are the only ingredient which has all three resist elemental effects: fire, frost and shock.
Combinations
Edit
2 Effects
Edit
| Desired Effect | Combine with: |
| --- | --- |
|  Resist Fire | Ash Creep ClusterDB, Ashen Grass PodDB (1.34×), Bone Meal, Dragon's Tongue, Elves Ear, Fire Salts, Fly Amanita, Mudcrab Chitin |
|  Fortify Enchanting | Ancestor Moth WingDG, Blue Butterfly Wing, Chaurus Hunter AntennaeDG, Dreugh WaxCC (2.0×), Hagraven Claw, Spriggan Sap, Stoneflower PetalsCC (2.0×) |
|  Resist Frost | Frost Mirriam, Frost Salts, Moon Sugar, Purple Mountain Flower, Silverside Perch, Slaughterfish Scales, Small Pearl, Steel-Blue EntolomaCC, Thistle Branch |
|  Resist Shock | Ash Hopper JellyDB, Blue Dartwing, Glow Dust, Glowing Mushroom, Pearl, Pine Thrush Egg, Swamp Fungal Pod |
Ingredients
Edit
142 guaranteed samples can be found in 66 different locations. Locations with the greatest numbers are:
It is categorized as a common ingredient, meaning that all apothecary merchants have a 36% chance of carrying 1-5 samples. In addition, it may be randomly found in some barrels and in apothecary's satchels.
1578 snowberry plants are found in 208 different locations. Locations with the greatest numbers are: