This article could benefit from an image
of:
jpeg, non-transparent (in-game) background
See Help:Images for information on how to upload images. Please remove this template from the page when finished.
Unique Item: Ring of the Moon

(

xx

0275b8

)



Type
Ring
Added by
Dragonborn
Editor ID
DLC2dunFrostmoonRingMoon
Statistics
 Weight
0.25
 Value
2250
Enchantment

Increases the duration of your Howls by 25%.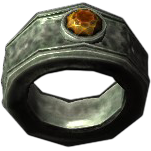 The Ring of the Moon is a ring that can be bought from Majni in Frostmoon Crag if you are a werewolf. In appearance, it is identical to a silver garnet ring, and also has the same weight. Its enchantment increases the duration of your werewolf howls by 25%. Multiple copies of these rings can be bought once Majni's merchant chest resets.
While the ring applies the effect Frostmoon Howl to display the enchantment text, the actual effect is applied by a perk also called Frostmoon Howl and is added separately upon transformation.