Skyrim:Reforged Cuirass of the Crusader
The UESPWiki – Your source for The Elder Scrolls since 1995
Artifact: Reforged Cuirass of the Crusader

(

FE

xxx

801

)



Type
Light Armor
Added by
Divine Crusader
Editor ID
ccMTYSSE001_ArmorKOTNCuirassReforged
Statistics
 Rating
38
 Weight
7
 Value
1200
Tempering
Corundum Ingot
Perk
None
Enchantment

10% Armor bonus, and 10% reduced damage from undead while wearing matched set. Increase your health by 10 points. Restoration spells cost 8% less to cast.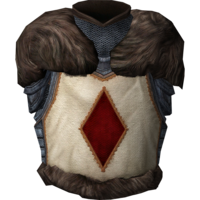 The Reforged Cuirass of the Crusader is an artifact cuirass. It is acquired through the Relics of the Crusader quest, in which you also claim the other relics from the Bandit Thieves at Four Skull Lookout. Improving the Reforged Cuirass of the Crusader requires a Corundum Ingot and the Arcane Blacksmith perk.
Related Quests
[
edit
]
Although the enchant description only mentions affecting damage from undead, the Creation Kit entry and actual mechanics also applies to Daedra.

Mod Notes: Confirmed by Creation Kit entry.