Unique Item: Predator's Grace

(

00

0a4dcd

)



Type
Light Boots
Editor ID
dunDeepwoodBoots
Statistics
 Rating
5
 Weight
1
 Value
117
Tempering
Iron Ingot
Enchantment

Wearer is muffled and moves silently: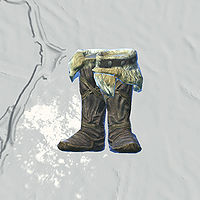 Predator's Grace is a pair of hide boots that are found next to a chest, above a waterfall, to the right of the Hag's End top level. These unique boots fully muffle the sound of movement the wearer makes, while also increasing the rate of stamina regeneration by one percent. Predator's Grace can be tempered with an iron ingot and the Arcane Blacksmith perk.
The stamina regeneration effect of Predator's Grace's enchantment has a non-standard magnitude.