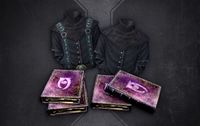 Necromantic Grimoire is a Creation is a necromancer themed creation akin to the Plague of the Dead Creation.
Official Summary
Edit
Rule over the realm of life and death with the Necromantic Arts pack. This creation features a unique necromancer robe with all new enchantments and variants, plus 13 necromancy themed spells allowing you to conjure a wide variety of skeletons, apparitions and powerful creatures, including the mighty Bone Colossus! Created by Virginia "Steelfeathers" Smith. (Items can be purchased at vendors and appear in containers.)
See Necromantic Grimoire Items for a detailed list of items added by the Creation.
Creatures
Items

Apparel
Magic Apparel
Magic

13 new spells can be learned from their corresponding spell tomes.
NPCs
Quests
The Creation name was misspelled on release as "Necromancer Grimorie" and later misspelled as "Necromancer Gremoire", before being corrected to "Necromantic Grimoire" on November 13th.
The .esl name of the Creation was added in Patch 1.5.80, but its release was delayed due to COVID-19.
The new unenchanted robes are available from level 1, the Quickening version with hood of Magicka from level 8, Recharging with hood of Major Magicka from level 16, Replenishing with hood of Eminent Magicka from level 24, Elite from level 32, Ascendant from level 40.