Creation:
Nchuanthumz: Dwarven Home
Released
November 11, 2021
Size
5.01 MB (PC) / (?) (Xbox One) / (?) (PS4)
Filename
ccafdsse001-dwesanctuary.esm
Availability
PC
Available from Creation Club for 400 CC Credits
Other
Also available on Xbox One and PS4, PlayStation 5, Xbox Series X/S
Requirements
Patch
Special Edition Version 1.6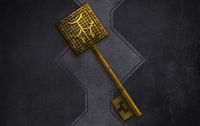 Nchuanthumz: Dwarven Home is a Creation that adds a new Dwarven player home that must be rebuilt.
Official Summary
Edit
Operate the downstairs Manufactory and build automatons to restore this cavernous home to its original luster. Once rebuilt, its spacious halls make it the perfect residence for any fan of Dwemer architecture and engineering. Creation by Flenarn and Arthmoor. (The quest starts by reading "Seeks-Ancient-Artifacts' Journal, Volume 1" in the Frozen Hearth in Winterhold.)
Items
Books
NPCs
Places
Quests