Unique Item: Muiri's Ring

(

00

06b218

)



Type
Ring
Editor ID
DBMuiriRing
Statistics
 Weight
0.25
 Value
434
Enchantment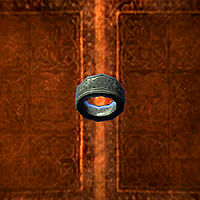 Muiri's Ring is a ring that can be obtained from its eponymous owner as a reward for assassinating Nilsine Shatter-Shield during the quest Mourning Never Comes. In appearance, the ring is identical to a silver ring. Its enchantment fortifies alchemy by 15 points, making your created potions and poisons more powerful.
Related Quests
Edit
If you have killed Alain Dufont before starting the related quest, Muiri will never ask you to kill Nilsine and you are blocked from ever receiving this ring.
Another, unobtainable version of Muiri's Ring (base ID 0006b219) exists in the creation kit. It is identical to the obtainable copy, but doesn't have an enchantment.