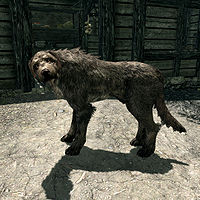 Meeko is a dog and possible follower that can be found in Meeko's Shack, south of Solitude (south of the sawmill and across the water).
You might encounter Meeko on the road outside of Meeko's Shack, and he will lead you to the shack. The dog has been left to its own devices, since his Nord owner died. Talk to Meeko and ask him, "Do you want to come with me boy?" From this point on, he will obey the commands "Come with me" or "Wait here." He will then travel with you on your adventures; he also fights enemies and is quite strong. Meeko is a secondary follower and can thus follow you in addition to a primary follower. He can also become a house pet with the Hearthfire add-on by asking him to follow you and then showing him to one of your children.
If dismissed or left waiting for more than two days, Meeko will return to his shack.