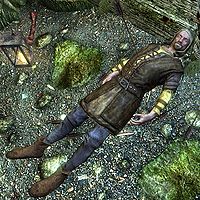 Leifnarr is a Nord farmer who can be found dead in Broken Helm Hollow. Grosta at Heartwood Mill will ask you to find him.
Leifnarr wears randomly determined farm clothes (7 variations) or a belted tunic, a pair of boots (4 variations), with a 50% chance for a hat (3 variations). Additionally there is a slim chance he may carry a lockpick and a small amount of gold.
Related Quests
Edit
If you find Leifnarr without getting the quest first, it may not update when you speak to Grosta, making it unable to be completed.

This bug is fixed by version 1.0 of the Unofficial Skyrim Patch.
You can fix it by using console command setstage e3ea5 30 .

Despite being named Leifnarr by his wife and the related quest, his corpse will be labeled as an unnamed "Nord".