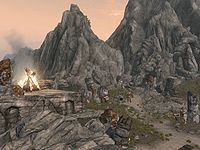 Guldun Rock is a giant camp located near the northern base of the Throat of the World (east of Whiterun).
It is found off of the road from Whiterun to Fort Amol, that follows White River, directly south of the Valtheim Towers.
Related Quests
Edit
Walkthrough
Edit
Guldun Rock
Edit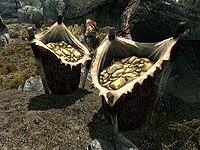 A path leading from the road is marked by a stone cairn beside the road and has a couple of tundra cotton shrubs and red, purple and blue mountain flowers surrounding it. Near the first bend in the path is a leveled animal that will normally be alerted to your passing, so be aware. The path leads to a wide flight of stairs up to the plateau the camp is situated on. There are two giants calling this camp home. There are several painted stones on your right as you approach the camp; between two of these is a fire-hardened stake with bunches of frost mirriam and elves ear hanging from it. There are a total of nine mammoth cheese bowls around the camp, as well as a large number of bones and skulls scattered around the camp. The campfire is to the north of Guldun Rock Cave and is situated up a flight of stone stairs on top of a ruined stone building that has been lost to the ages. It provides a good vantage point for seeing for quite a distance to the north. There are no chests outside the cave. To the north of the campfire (near the two orichalcum ore veins) is a leveled animal.
Guldun Rock Cave
Edit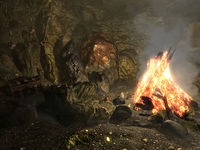 The cave is typically unoccupied. As you enter there is a central rock pillar with painted stones and a mammoth cheese bowl around it. There are two patches of bleeding crown mushrooms found within the cave. To the west, on a flat topped rock is a dead skeever with three charred skeever hides under it and another mammoth cheese bowl beside it. There is a large campfire on the other side of the central pillar with a dead cow to the west of it and to the south another flat topped rock with two coin purses (one large, one medium), a random filled soul gem, six loose coins and a copy of the Heavy Armor skill book The Knights of the Nine on top and an unlocked chest behind. To the northeast of the central pillar is a second fire built from carefully stacked wood usually used by giants for cooking larger animals like horses and cows.
Two orichalcum ore veins are located 210 ft north-northeast of the camp.