This article could benefit from an image
of:
NPC in werewolf form
See Help:Images for information on how to upload images. Please remove this template from the page when finished.
This article is about the farmer added by the Dawnguard add-on. For other farmers encountered in world interactions, see Farmer (NPC).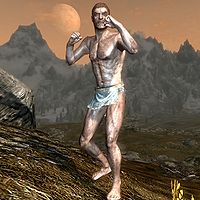 This Farmer is a Nord bandit who can be randomly encountered in the wilderness. He turns into a werewolf when approached and will proceed to attack. He carries three pieces of raw meat.