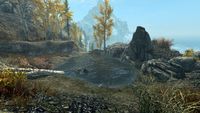 Clearspring Tarn is a small mountain pool on the cliff overlooking Eastmarch, due east of Snapleg Cave and west of Shor's Stone.
Related Quests
Edit
Note: This location is one of many potential targets for one or more of the radiant quests found on this page.
Clearspring Tarn
Edit
Beyond its aesthetic beauty, the tarn is mostly a landmark for the location of the Clearspring Cave that is hidden beneath it. An apprentice-locked wooden chest can be found in the water along with a surprising variety of small fish that can be caught for use in alchemy. Visitors may encounter a pair of hunters that are busy pursuing their quarry as there are a large number of elk in the region. There is a small cave to the west of the tarn with a path heading northeast past the tarn, after a short way the path splits with the right fork leading back under the tarn to the entrance to Clearspring Cave and the left fork heading in the direction of Darkwater Crossing.
To achieve "Cleared" status, kill the Troll in Clearspring Cave below.