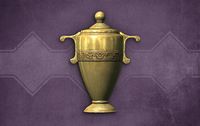 Bittercup is a Creation centered around the eponymous artifact.
Official Summary
Edit
In the forests of Falkreath lies a mysterious altar promising the gift of a single boon. Walk the path that reflects your desire (or lack thereof) and embark on a unique adventure based on that choice. Discover the fabled Bittercup and three separate quests! Quests by Kris Takahashi. (The "A Dying Wish" quest starts by reading Mysterious Altar at Dead Man's Drink in Falkreath.)
See Bittercup Items for a detailed list of items added by the creation.
Items

Books

Keys

NPCs

Places

Quests