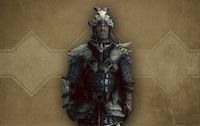 Alternative Armors - Dragonscale is a Creation that adds an alternative variant of Dragonscale Armor that is based on the Dragonscale armor set from Blades.
Official Summary
Edit
Includes four pieces of light Dragonscale armor as featured in The Elder Scrolls: Blades! Quest by Kris Takahashi. (Quest "Tilted Scales" starts by reading The Crimson Dirks, v4 in Candlehearth Hall in Windhelm.)
In the quest Tilted Scales, you are tasked with hunting down a book found in Candlehearth Hall, in Windhelm. This book sends you to Yorgrim Overlook for the armor.
Regular Dragonscale armor starts appearing in leveled lists at level 46, but this creation's quest can be completed by characters of any level for its armor set.