Room
Free
Publican
Dredhwen
Console Location Code(s)
SEPasswallTheWastrelsPurse
Location
Passwall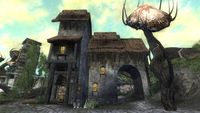 The Wastrel's Purse is an inn located in Passwall. It is found directly on top of the road passing through the town, across the street from Nanette Don's and Shelden's houses.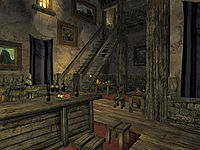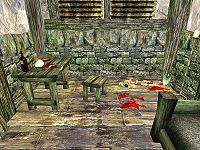 The proprietor, Dredhwen, has a Mercantile skill of 50 and will buy weapons, armor, books, ingredients, potions, and miscellaneous items and sell the same goods except for armor and also offers scrolls.
The ground floor serves as a bar and dining room and is embellished by a few tapestries and a selection of views from the Isles. There is nothing of real value around, and all of the containers contain the usual mix of food or clutter. The bar itself is quite well stocked: two bottles of mead, beer, and cheap wine, along with three of Bernice's summer wine sit on the counter; eighteen cheap wine bottles are distributed in the three wine racks in the corner and eleven bottles of Fellmoor red wine are found in a small wine rack adjacent the counter. Two meals of smoked Baliwog legs and wisp cores are also on the counter. On the dining tables is more drink, including two bottles of ale, and two typical Isles meals: flame stalk and screaming maw as well as rot scale and gnarl bark. Next to the stairs is a small shrine to Sheogorath with a few offerings.
Upstairs are two rooms: the first on the right is very small and only contains a bed you are free to sleep in and a respawning chest; the second is inhabited by Relmyna Verenim during the Through the Fringe of Madness quest. She was making it her hideout and decorated it according to her sadistic taste: blood on the table, wall and floor; a rotting human torso on the floor, two Baliwog legs, a skull and a hand scythe. Also on the table is a bottle of cheap wine and a love letter. You are also free to sleep in Relmyna's bed.
Dredhwen's vendor chest in The Wastrel's Purse can be accessed and contains three items subject to the duplicate respawning items glitch namely, Iron Arrows, Bear Pelt, and Lockpicks. To access it jump into the roof trusses from the top of the stairs, then out of the building. You can stand on the floor on the outside of the wall, save here because if you fall you respawn in the room. The chest is directly under Dredhwen. Fall off the edge moving towards it or make a stair case out of glitch paintbrushes leading down to it. Accessing the contents also makes it possible to steal back items you sold to Dredhwen.