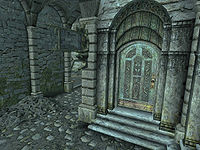 The Museum of Oddities is a museum looking for odd exhibits, located in Crucible, New Sheoth.
The museum stands in Crucible, New Sheoth. It is "mostly" empty at first, and it is up to the player to fill its display cases with various rare items. For each item you bring the curator, Una Armina, she will give you a set amount of gold and the object will take its place among the museum displays. When first entering, you can ask her for a "Museum Tour" where you will be introduced to a few of the measly "oddities" that currently make up the Museum. In one of the glass display cases is the Ring of Desiccation, one of three items you are asked to get in another quest.
Oddities that can be donated are listed on the accompanying quest page.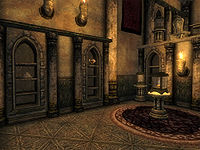 Related Quests
Edit