Hound Tooth
00

044E62

1
0.1
Alchemy Effects
1st
 Cure Poison
2nd
 Detect Life
3rd
 Burden
4th
 Invisibility
Sources
# Samples
5
Creature
Skinned Hounds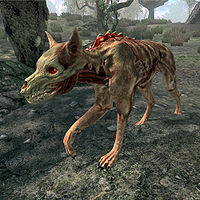 The ingredient Hound Tooth is collected from Skinned Hound corpses.
Ingredients
Edit
5 guaranteed samples can be found, in the following locations (magenta crosses on map):
Creatures
Edit
Hound Teeth are obtained from most types of Skinned Hounds, including Greater Skinned Hounds. Hound Teeth do not come from Relmyna's (dead) Skinned Hound or from Ushnar's Skinned Hound. However, "Hound Corpses" (already-dead hounds) do yield Hound Teeth.
In most places, Skinned Hounds are generated by Undead and Wilderness leveled lists, which only spawn Skinned Hounds starting at level 4. Along the shorelines in Dementia, Skinned Hounds instead appear at levels 1 to 20.
Places where respawning Skinned Hounds can be found at all levels include (red and orange circles on map):