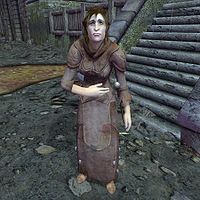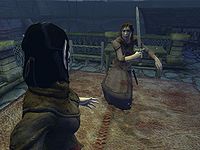 Caldana Monrius is an Imperial commoner who lives a hard life in Crucible, New Sheoth. She is a hardcore Skooma addict who always begs you to bring her some. As she spends her nights outside, she will prove useful during the quest The Lady of Paranoia, when you will have to ask the citizens about suspicious behavior.
She has constant withdrawal symptoms and spends most of her time in a terrible state, constantly shaking and with an unhealthy paleness across her face. Unable to sleep, she spends her nights, from midnight to 6am, restlessly wandering the streets of Crucible regardless of weather. She finally falls asleep in her bed at 6am, but wakes up again at 9am and takes a two-hour trip to the Sacellum Arden-Sul, praying silently on one of the pews. She goes back to bed at 11am and sleeps for yet another three hours. At 2pm, she eats a two-hour meal in her house, followed by six hours of wandering on the ground floor.
At 8pm, she finally leaves and heads up upon the rooftop of Sickly Bernice's Taphouse where she meets up with the other members of the Duelists, for two hours of drinking and fighting. On Tirdas she will fight Muurine, on Turdas she will fight Cutter (but only once The Lady of Paranoia is completed), on Fredas she will fight Cutter, Muurine and Ushnar gro-Shadborgob and on Loredas she will fight Ma'zaddha. If she isn't fighting, she cheers on the other duelists. She always heads back to her house at 10pm for a late dinner before hitting the streets once again at midnight. When the Sacellum Arden-Sul is closed between Ritual of Accession and Retaking The Fringe, Caldana will stay asleep at 9am.
She wears a set of typical colorless Dementia clothing, a patchwork shirt with matching pants and scruffy shoes. She carries her house key, the special Duelist's Key, a bottle of ale, the Liturgy of the Duelists book and a small amount of gold. She relies on an iron shortsword for protection. During her night-time fights she wields an iron dagger.
Always plagued by Skooma withdrawal, she will wander around Crucible at night, whispering: "Psst! You got any Skooma?" If you talk to her, she will not introduce herself but get right down to business: "You got some Skooma, yeah? Right buddy? Pal? To share? Come on, pass the Skooma already!" If you exit conversation, she will add: "Next time, bring some Skooma with you!" If you choose to ask her about Skooma, she will reveal just how addicted she is: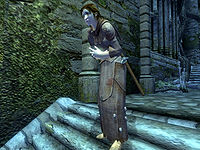 "Alright! It's about time. Give it to me already!"
"Sweet, sweet Skooma. Give it here. Give it here!"
"Quit playing around. Hand it over!"
"I need it. You got it?"
If you choose to hand her some Skooma, she will be relieved and overwhelmed with joy:
"I can taste it already! Sweet, sweet Skooma. Here, you take this. It's all I got."
"YES! Now that's what I'm talking about. Take this as a token of my thanks."
"Give it here! Give it here! Take this as payment."
80% of the time she will reward you with a random piece of clutter (various cutlery, standard clothing, etc) but the other 20% of the time she will reward you with something useful (leveled jewelry or potion). Giving her skooma also gives you a +75 disposition boost and will make her lift her arms and cheer: "Skooma! Skooma!"
Should you instead choose to taunt her and deny her any Skooma with the words: "Get your own Skooma", her disposition will drop 25 points and she will be very disappointed and sad:
"Don't be so cruel! I hope you die a horrible death."
"You don't know what it's like! I need the Skooma!"
"Shouldn't tease me like that. I hope you trip and fall on a sword."
When approaching during the nightly duels atop Sickly Bernice's Taphouse, she may forget her Skooma addiction and say: "Shhh! Watch if you want, but don't bother anyone." Drifting restlessly around Crucible at night also makes Caldana an obvious choice for interrogation during The Lady of Paranoia. She will initially say: "Nothin' in it for me, so I've nothin' to say to you." but with a bit of persuasion from Herdir Caldana will quickly break down and say: "All right, all right! I've seen Ma'zaddha, yes. Talkin' to that Seducer, Nelrene. All secretive-like, out in the street late at night. I don't know nothin' else, honest." If you get near her after completing the Main Quest she will say: "Sheogorath must have Skooma!" Her only goodbye will be: "Blessings upon you Lord.... Bring the Skooma next time."
If Caldana is killed and her tombstone in New Sheoth Graveyard is activated, it will read: Caldana Monrius' last words: 'Bring some skooma to my wake!'
Stage-Dependent Dialogue
Edit
At different stages in the Main Quest, Caldana will share different rumors with other NPCs:
A new adventurer in the Isles. Perhaps this adventurer has some Skooma?
The Gatekeeper has been slain. That calls for a bit of Skooma, don't you think? I need a fix of Skooma! Please! You got some Skooma?
That Adventurer-Attractor-Thingy is working again. You know what's attracting me? The Skooma!
Thadon must be back on the Felldew... he's never tried the skooma though. Say, you got any skooma you can spare, friend?
Syl's rounding up people again. I better go stash my Skooma. Or... I would if I had some. You have any?
The Great Torch is lit! This calls for a celebration. Break out the Skooma! You brought the Skooma, right?
Now that Syl is gone, perhaps Skooma will once again be legal!
Strange knights in the Fringe? Well, I'll drink to that!
There's a new Gatekeeper. That calls for a toast. Pass the Skooma!
The armies are restored? That calls for a celebration!
They say our Lord just took off. Can you believe that? I need a drink. I need the Skooma.
Victory over Order! That calls for a grand celebration. Break out the casks of Skooma!
Related Quests
Edit
Since the leveled lists used to determine the reward are standard Oblivion ones, she will not give you Shivering Isles items.
The name of her key has a typo. Her last name is spelled "Monirus" instead of the correct spelling, "Monrius".
Caldana was supposed to greet you differently at random times; unfortunately her first Skooma request takes precedence over all other greetings and can not be heard in-game:
Caldana has the same bug as the other members of the Duelists and can often be found to be carrying huge amounts of weaponry.