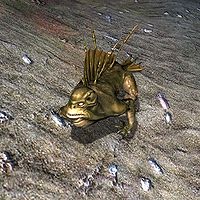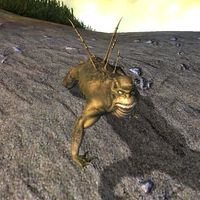 Baliwogs are aquatic-dwelling creatures that frequent the lakes, rivers and bogs of the Shivering Isles. With the exception of the Young Baliwog, they all carry a dorsal on their back. A fully-grown adult Baliwog can deliver a nasty blow from its claws, a swing from its tail or a potentially deadly bite from its razor-sharp teeth. It transmits a horrible disease, can swim and regenerates health when in water. You will hear (or read) about myths that Baliwogs possibly become Grummites when they grow up, while some sources claim that they become Scalons instead.
Baliwogs regenerate 1pt of health per second if they are swimming (i.e. in water).
Baliwogs have a 15% chance of being infected with Swamp Fever.
Creature Name

CLvl

App.

Carries
Attacks
Soul
Young Baliwog


00011B6A

Lvl

-2

Max:3

1
Random Pearl (20%)


Minor Loot (15%)

10×
(

Lvl

-2)

Max:30

0

8+(

Lvl

-2)/2 pts melee, unarmed.

Petty
Baliwog


00011B6B

6
10
Random Pearl (20%)


Minor Loot (15%)

130
0
Lesser

Venemous

Baliwog


0003BAA1

9
20
Random Pearl (25%)


Minor Loot (15%)

180
0
Common
These varieties can only be found at some locations.
Creature Name

CLvl

Carries
Attacks
Soul
Baliwog


SE09Baliwog01
00078C4B

6
Minor Loot (15%)
100
0
Lesser
Baliwog


SE09Baliwog02
00078C49

6
Minor Loot (15%)
100
0
Lesser
Young Baliwog


SECreatureBaliwog1Dead
000698BF

1
nothing
0 (Dead)
0
Petty
Mirili's Baliwog


0004530C

6
nothing
130
0
Lesser