The human tribes of the Kothringi survived in Black Marsh as long as they did by becoming opportunists, folk who took advantage of what other peoples left behind. They built the village of Zuuk atop the much older Ayleid foundations of Sul.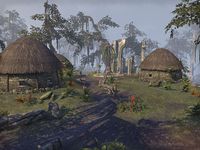 Zuuk is an abandoned village in central Shadowfen, west of the Hatching Pools.
Related Quests
Edit
Zuuk Objective: Stop Dominion forces from taking Zuuk's keystone.