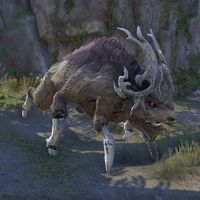 Welkadra is a hostile echatere found in Sunhold, on a bluff above the stables near the entrance to the city. It is one of the public dungeon's bosses.
Skills and Abilities
Edit
Headbutt

Welkadra winds back on its haunches and headbutts in a conal AoE. Knocks back whoever it hits.

Tusks

Welkadra thrusts its tusks at you, dealing physical damage.

Elder Shockwave

Welkadra rears on its hind legs and brings its body down with force, causing a shockwave to bloom in five directions. Staggers whoever it hits.

Bile Spit

Welkadra spits bile at you, dealing poison damage. Sets a DoT on whoever it hits.
Achievements
Edit