| | | | | |
| --- | --- | --- | --- | --- |
| | | Celebrate the New Life Festival with the Altmer of Haven. | | |
Breda, a New Life Herald in Eastmarch, spoke of Haven's New Life Festival in Grahtwood.
Quick Walkthrough
Edit
Talk to Ormurrel at the Temple of the Eight in Grahtwood.
Donate either your time or money to the Temple:

Speak to Ormurrel again to donate gold to the war orphan fund.
Kill five encroaching creatures to clear the path.

(Optional) Complete the other objective.
Return to Breda.
Detailed Walkthrough
Edit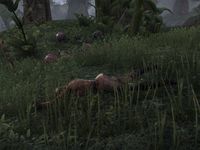 This quest can be obtained once a day by talking to Breda, south of Windhelm. She will give you one of 9 quests; you can abandon a quest and get a new one from her to get a different one.
"The High Elves of Haven have the War Orphan's Sojourn. They travel to a temple in the heart of Grahtwood and donate what they can.
I'll mark your map. It's quite simple—give what you are able to give."

All right, I'll walk the War Orphan's Sojourn.
Travel to the Temple of the Eight, west of Elden Root. Once there, talk to Ormurrel:
"Another on the War Orphan's Sojourn? Though Stendarr provides for all lost children, we will not turn away donations for our charges."

Other than donations, what can I do to help?

"Ah, yes. Some of those who walk the War Orphan's Sojourn are far less capable than yourself. The creatures alerted to their passage see them as a fine meal.
Aggressively dissuading these creatures would help clear the path. If you're so inclined."

How do I donate to the war orphan fund?

"I can assist you with that. Anything you can donate will help. We must keep our charges fed."

All right. I'm ready to donate. [Give gold]

"What grace. Stendarr smiles upon those who help lost children. Today, he smiles upon you."
You have a choice of donating a leveled amount of gold how much per level?, or killing the surrounding animals. You can choose to do the other option as an optional objective, but there is no additional reward from doing this. Animals usually spawn around the temple, allowing for easy kills to satisfy the objective. Once you are finished in Grahtwood, return to Breda:
I completed the War Orphan's Sojourn. I did all I could to help the children.

"Then you truly understand the War Orphan's Sojourn. The children have lost everything. Providing what you can, and then even more, gives them New Life in a new year.
It is not easy. But it eases their burden, which is all they know."
The quest provides a circle in which to kill the encroaching creatures, but you may receive credit for killing creatures almost anywhere in Grahtwood. The creatures within the circle do respawn more quickly during the Festival, however, and not all creatures outside will count. In particular, Daedra, undead, and humanoid enemies never count, but even among the more natural creatures, it seems fairly arbitrary which ones do and do not count when you are not within the quest circle.
In order to get the achievement War Orphan's Benefactor, it is not necessary to complete both objectives in one playthrough of the quest - they can be completed in separate playthroughs.
Achievements
Edit
Quest Stages
Edit
War Orphan's Sojourn
Finishes Quest
Journal Entry
To complete the War Orphan's Sojourn, I must first travel to the Temple of the Eight in Grahtwood and speak with Ormurrel.

Objective: Talk to Ormurrel at the Temple of the Eight in Grathwood

To complete the War Orphan's Sojourn, I must either donate gold to the Temple of the Eight in Grahtwood or kill encroaching wildlife that threatens the temple.

Complete one: Donate to the Temple of the Eight in Grahtwood or Kill Encroaching Wildlife: 0/3

I should return to Eastmarch and speak with Breda.

Objective: Return to Breda

If I wanted to help more, I could also kill encroaching wildlife that threatens the Temple of the Eight in Grahtwood.

Optional Step: Kill Encroaching Wildlife: 0/5

(Appears if you killed wildlife first.) If I wanted to help more, I could donate gold to the Temple of the Eight in Grahtwood.

Optional Step: Donate to the Temple of the Eight in Grahtwood

I should speak with Breda about celebrating the New Life Festival.

Objective: Talk to Breda