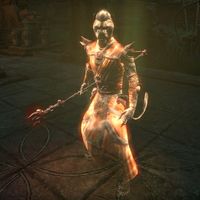 Tullar-dra is a cathay Khajiit who serves as one of the champions of Rimmen Necropolis, appearing alongside Jinninji-ri and Zebiden-jo after activating the urn in the Tomb of the Manes. He was the Mane in ancient times, when the Golden Claw was established as a holy relic in Do'Krin Monastery.
Spells and Abilities
Edit
Achievements
Edit
He is mentioned by Azahrr in relation to the Golden Claw.