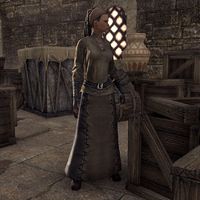 Trava is a Redguard fisher located on the Sentinel Docks after you clear the Ra-Netu by completing the quest Risen From the Depths. You can find her upstairs inside the Warehouse where the dead are being prepared for burial.
She doesn't feel comfortable working with the crates while the dead are being consecrated downstairs.
"I am ashamed to be working with what's going on downstairs. This old warehouse may well become sacred ground."