Mannimarco was expelled from the Psijic Order when Vanus Galerion discovered he was conducting forbidden experiments with necromancy.
Cave:
The Worm's Retreat


Unmarked
Discoverable
No
Occupants
Aldimion, Severinus Falco
Quest Chain
Main Quest
Location
Abandoned Cellar in:


Vulkhel Guard

(Auridon)

Daggerfall

(Glenumbra)

Davon's Watch

(Stonefalls)

Solo Instance 
Solo Only
Yes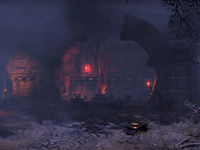 The Worm's Retreat is a Worm Cult base located beneath Vulkhel Guard, Daggerfall and Davon's Watch. Aldimion's Journal can be found here.
Related Quests
Edit