This page is currently being rewritten as part of the Online Quest Project.
The page is being both written and checked. All users are welcome to make changes to the page. If you make a change that is relevant to the project, please update this template accordingly, and make sure you have observed the project guidelines.

| | |
| --- | --- |
| | Help the Guildmaster understand the threat to the present in the events of the past. |
Guildmaster Sees-All-Colors has plans to make use of the crystal and tome we found in the depths of Mzeneldt.
Quick Walkthrough
Edit
Detailed Walkthrough
Edit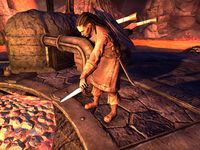 Meet with Sees-All-Colors at the specified guildhall, and she will tell you of Abagarlas and the Mortuum Vivicus, creating a portal to the Ayleid city. Once there, she will cast a spell around you, allowing you to see through the memories of the Ayleid warrior Ostarand. Continue through the ruin until you find Queen Palolel, who is casting a spell on the Vivicus, and must be killed. You must then try to destroy the Vivicus, however, Molag Bal will teleport it to Coldharbour before you are able to. Speak with the Guildmaster in the present, and she will say that Ostarand was close to destroying the Vivicus but was not able to finish his task, meaning it is still a threat. She then creates a portal to The Earth Forge and tells you to speak with Merric.
At the Earth Forge, Merric will be wearing a blacksmith outfit and you must follow him to the Forge. Once there, he will give you instructions on stoking the fires to help him forge the Prismatic Core. You must do it in the following order the first time:
The second time, you must do it in this approximate order:
Coals
Valve (twice)
Bellows
The third and final time, you must do it in this order:
Coals (twice)
Valve
Bellows (four times)
Once that is done, Molag Bal will summon undead forces from Abagarlas to attack you. After they are defeated, an undead Queen Palolel arrives in Lich form and attempts to kill you, and you must defeat her. Speak to Merric and follow him outside. He will talk to Aelif, who has fought off the undead on the surface with unfortunate casualties, and Jofnir Iceblade will show up. He tells you all that he was murdered and wants you to find his killer so that he may be at peace. Speak to Merric again, who will teleport you to the guildhall to report to Sees-All-Colors.
This quest starts in the capital city of the *third* province in the Zone Story. (Greenfalls / Marbruk: Shadowfen / Stormhold: Rivenspire / Shornhelm)
Quest Stages
Edit
The Prismatic Core
Finishes Quest
Journal Entry

Objective: Talk to Guildmaster Sees-All-Colors

Objective: Enter Portal

Objective: Explore Abagarlas

Objective: Kill Queen Palolel

Objective: Destroy the Mortuum Vivicus

Objective: Go to The Earth Forge

Objective: Talk to Merric

Objective: Follow Merric into the Earth Forge

Objective: Get Instructions from Merric

Objective: Stoke a Small Fire

Objective: Wait for Merric

Objective: Stoke a Medium-Sized Fire

Objective: Stoke a Large Fire

Objective: Defend the Earth Forge

Objective: Find Aelif

Objective: Talk to Sees-All-Colors