Sewer:
The Aquifer


Unmarked
Discoverable
No
Zone
Long Coast, Grahtwood
Location
Haven
Loading Screen

The port city of Haven, on the border with Elsweyr, has changed hands many times. During the late First Era it was governed by the Reman Empire. More recently it has become a sort of High Elf colony. The Altmer replaced the Imperial buildings with their own—but they kept the Imperial sewer system.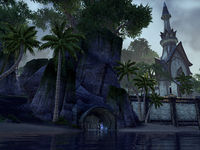 The Aquifer is the Imperial sewer system of the port of Haven.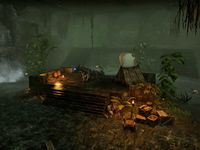 The entrance to the sewers can be found on the southwestern shore of Haven. The sewers lead to a gatehouse found inside the Haven Fort. The Aquifer is only accessible during the quest Unsafe Haven. The sewer system is inhabited by groups of Jackdaw bandits. Near the exit to the fort you will find Beast Handler Mahei-Ma and a wamasu Tsonamot.
Related Quests
Edit