This article is about the crafting site in Grahtwood. For the abbey in Cyrodiil, see Abbey of the Eight.
Crafting Site
Discoverable
Yes
Completion
None
Zone
Tarlain Heights, Grahtwood
Location
Northwest of Elden Root
Crafting Stations

Blacksmithing Station
Clothing Station
Woodworking Station
Jewelry Station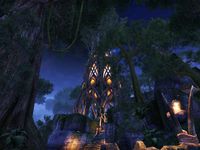 The Temple of the Eight is an old temple in central Grahtwood, northwest of Elden Root.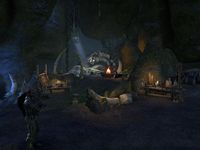 The temple is home to a special crafting site, where you may craft items in the Armor of the Seducer set. It is guarded by the Brackenleaf's Briars, and an Orc named Agstarg resides within the Divine Sanctum. A Brackenleaf shrine can also be found just outside the temple exterior, and will confer a blessing upon you if you have completed the quest Bosmer Insight.
Prior to starting The Wounded Wood, Glothorien will be at the temple praying and will send you to aid Gil-Var-Delle.
During the New Life Festival event, an Altmer priest named Ormurrel can be found here.
Related Quests
Edit