Stadia is Google's cloud gaming service. The Elder Scrolls Online was released on Stadia on June 16, 2020.[1] The game is no longer available for purchase as of September 30, 2022, and Stadia as a service will shut down on January 18, 2023.[2][3]
Stadia uses the same megaservers as PC/Mac, allowing for cross-play. This means that Stadia follows the same release schedule as PC/Mac, although since it's a streaming service there is never any need to download a patch.
Interface Differences
Edit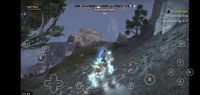 Stadia can be played in browser on PC using PC controls, or on any streaming device using console controls. If using a touchscreen device such as a smartphone, an on-screen touch gamepad can be used if no controller is connected.
Interface differences are otherwise minimal once past the login screen.
Stadia was only available in certain territories, specifically Austria, Belgium, Canada, Czechia, Denmark, Finland, France, Germany, Hungary, Ireland, Italy, the Netherlands, Norway, Poland, Portugal, Romania, Slovakia, Spain, Sweden, Switzerland, the United Kingdom, and the United States.
After Stadia's shutdown announcement, ZeniMac announced on October 20, 2022 that players who purchased ESO through Stadia can log in and download ESO for PC/Mac for free, without needing to buy the game again.
References
Edit