Online:Slagwug
The UESPWiki – Your source for The Elder Scrolls since 1995
Slagwug
Home City
Evermore
Race
Orc
Gender
Male
Reaction
Friendly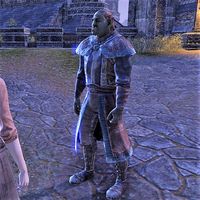 Slagwug is an Orc found in Evermore. You'll find him wandering from in front of Evermore Castle to south of the Evermore Smithy in front of the town stocks where he chats with Dorothella Virien. Other than his conversation with Dorothella Virien, he cannot be interacted with and has no unique dialogue.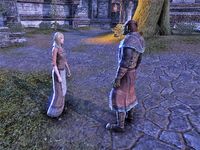 Dialogue
[
edit
]
Slagwug and Dorothella Virien will have the following conversation when approached:
Slagwug : "By Mauloch, It's good to be able to look up to a clear sky."
Dorothella Virien : "I heard the crows were being controlled by a Hagraven out in Jackdaw Cove."
Slagwug : "That would make sense. Afterall, I did see a whole mess of them tear a man to pieces right in front of me."
Dorothella Virien : "Oh, not this story again! Look, the important thing is that she's dead."
Slagwug : "Well the bird-catchers won't like it, but whomever killed that monster is a hero through and through. Evermore might survive after all."