Online:Sedris Nedaren
The UESPWiki – Your source for The Elder Scrolls since 1995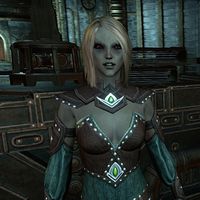 Sedris Nedaren is a female Dunmer located in the Clockwork Basilica in the Brass Fortress. She works for Sotha Sil, and does not like doing so.
Dialogue
[
edit
]
"So you're Divayth Fyr's new auxiliary, eh? Tough luck, friend. I've heard he's an insufferable bastard, but at least he's not Sotha Sil. Better to be turned into a guar than to serve the Clockwork God. "

You don't like working for Sotha Sil?

"Not anymore. In the old days, sure. He was easy to please because he was never around.
These days? He changes his mind about something every night. Constant meetings, new dictums daily, adjustments to Factotum patrols. It's a nigthmare."

Are you sure he hasn't always been this way? You said he was never around.

"Trust me, this is unprecedented. I'm afraid something's wrong with his enhancements, like he's having trouble regulating. He's a different person, I swear.
Don't tell anyone I said this. Especially Gascone. Blasphemy doesn't go over well nowawadays. "

Blasphemy?

"Yes. Speaking ill of a god never turns out well. In the old days, he'd take it in his stride. Commit your small blasphemies, he'd say. The fire of doubt turns ignorance to steam. But not anymore.
This place is getting more like Mournhold every day."

Sorry to hear that. I should get going.

"Right. I'm sure you have plenty of work to do for Lord Fyr. He's back a few days and already burying you in paperwork, no doubt.
Take care of yourself, friend."