This page is currently being rewritten as part of the Online Quest Project.
The page is being both written and checked. All users are welcome to make changes to the page. If you make a change that is relevant to the project, please update this template accordingly, and make sure you have observed the project guidelines.

Carry out a contract in an inhabited sewer system.

Faction:
Dark Brotherhood
Quest Giver:
Speaker Terenus in the Dark Brotherhood Sanctuary
Location(s):
Sewer Tenement
Prerequisite Quest:
A Lesson in Silence
Reward:
Unidentified Sithis' Touch Equipment or
Unidentified Sithis' Touch Equipment (for completing all challenges)
Very High Leveled Gold
10 Reputation
+10 for completing all challenges
XP Gain:

Standard

XP
ID:
5726
Repeatable:
Daily
I received a contract from the Speaker.
Quick Walkthrough
Edit
Speak with Terenus to go to the Sewer Tenement.
Complete the secondary objectives.
Kill your target.
Escape the Sewer Tenement and speak with Terenus for your reward.
Detailed Walkthrough
Edit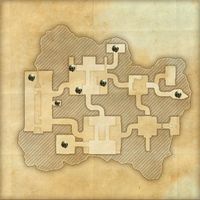 Speaker Terenus has a task for you. He needs you to kill someone. That "someone" will be one of the following individuals:
Speaker Terenus will likely have given you several tasks to complete while you're in the sewers. Your first objective is to either kill a secondary mark or destroy a Dwarven Relic. The secondary target is there as a challenge, and the Dwarven Relic is too valuable to remain at the scene. Terenus doesn't want people poking around the scene of an assassination. The Dwarven Relic will be located on the right-hand side at the bottom of the stairs in the mid-northern chamber of the Sewer Tenement (on the map provided, this is the large chamber with three possible target locations in it), next to Geon Alinie if he's present.
Your tertiary objective will be to either:
Murder your target with a poison equipped on the weapon slot you have active when you make the kill, or
Kill your target with the Blade of Woe.
Finally, you'll want to escape the Sewer Tenement in under two minutes after the kill. Stepping into the entrance area counts as escaping the sewer tenement. You do not have to actually leave the area for the game to count you as having "escaped". As long as you make it to the ladder room, you're good. Climb the ladder when you're ready to leave and speak with Terenus for your reward.
Quest Stages
Edit
Sacrament: Sewer Tenement
Finishes Quest
Journal Entry
The Black Sacrament has been performed for <target> at the Sewer Tenement.

Objective: Kill <target>

Optional Step: First optional objective

Optional Step: Second optional objective

Optional Step: Don't Alert the Sewer Tenement

Optional Step: Leave Before the Overseer Arrives

Objective Hint: Talk to Speaker Terenus to Travel to Sewer Tenement

Objective Hint: Alert Status: 0/5

Objective: Return to Speaker Terenus

The Speaker is waiting for my report at the Sanctuary.

Objective: Return to the Speaker