Online:Sabibi
The UESPWiki – Your source for The Elder Scrolls since 1995
Sabibi
Home City
Elden Root
Race
Khajiit
Gender
Female
Health
39959
Reaction
Justice Neutral
Pickpocket
Medium
Profession
Scholar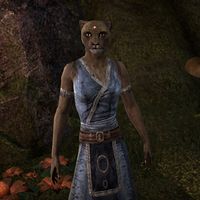 Sabibi is a Khajiit scholar found in the city of Elden Root at the Great Trunk Artisans Court. When spoken to, she'll say one of two lines:
"If Sabibi were to climb the inside of this tree, do you suppose the Bosmer would take issue? It is just a climb, after all. This one merely wishes to have a better look at the apex of this chamber, where the tree meets the tree."
"Sabibi wonders if this tree truly grew this way naturally. If the Wood Elves do not harm wood, could they coax it to grow in this fashion?"