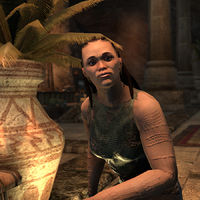 Saadifa is a Redguard who can be found at the Outlaws Refuge in Sentinel. She is an underling of Fahdah the Eyeful and admires her immensely, as can be seen by her giving Fahdah a foot massage.
She looks up to Fadah.
""Fahdah the Eyeful hit me. Said I was a terrible thief and a worse beggar. What an honor! It's rare that she displays her prowess for free.
I worked with her once. For the Khajiit crime lord, Splendid-Paws. Those were good days, my friend!"
"Isn't Fahdah wonderful? Her brawn is matched only by her stunning beauty. I've had the opportunity to work with her and let me tell you, her beatings are legendary!
But what she accomplishes with just a look and a snarl? Magnificent!"