Rune Focus
Line
Restoring Light
Line Rank
42
Cost

1080

 

Magicka

Cast Time
Instant
Duration
20 seconds
Target
Area
Area
3 meters
Morphs
Channeled Focus
Increases the duration and causes you to restore

Magicka

over the duration.
Restoring Focus
Increases the healing done and causes you to restore

Stamina

over the duration.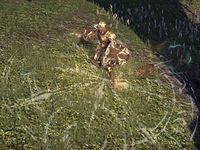 Rune Focus creates a rune which increases your armor and spell resistance while standing inside. The Channeled Focus morph reduces the casting cost, and also restores your Magicka, while Restoring Focus increases your healing received and provides additional damage reduction.
Patch Notes
Edit