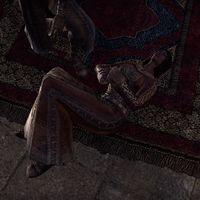 Roheebah is a Redguard informant for Prince Azah who can be found at the Royal Seraglio in Sentinel, lying on the ground in pain. Ilmaha at-Amil, the other informant, kneels over her. After the quest, Rindulath the Mender sees to her wounds.
Related Quests
Edit
Quest-Related Events
Edit
All she says is:
"Azah … Azah … is that you? What happened? I feel so … dizzy …."