Online:Registrar Bameni
The UESPWiki – Your source for The Elder Scrolls since 1995
Registrar Bameni
Home Settlement
Shad Astula
Location
Registrar's Office
Race
Dunmer
Gender
Female
Reaction
Friendly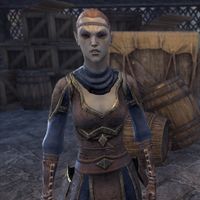 Registrar Bameni is a Dunmer mage working as the registrar at the academy of Shad Astula.
Related Quests
[
edit
]
Quest-Related Events
[
edit
]
Registrar Bameni will be the one you show your invitation to when you arrive at Shad Astula. Once you do, she will direct you to see the Arch-Mage of the Academy in his office.
"Welcome to Shad Astula, proud training ground for the next generation of House and Pact leaders.
May I see your invitation?"
Here you go.
"Ah, yes. The Arch-Mage asked me to expect you. He's been waiting for you to arrive."
Really?
"No need to be worried. The Arch-Mage has visions about people all the time. It's one of his many, many gifts.
Please, report to Arch-Mage Valeyn right away."
You can ask her more questions now.
Can you tell me more about the Academy?
"My pleasure! The Academy trains promising magic-users to become great scholars, charismatic leaders, and mighty heroes.
It's sponsored by the Great Houses, and this is the first season that we're accepting candidates from all Pact nations."
Is it part of the Mages Guild?
"What a silly question. Of course not!
The Mages Guild has too many ties to the enemy alliances. The Academy is strictly a training ground for future leaders of the Ebonheart Pact."
Speaking to her again:
"You'll find Arch-Mage Valeyn in the main building. He's seen great things concerning you!"
She also has something to say to you near the end of Vision Quest. You aren't required to speak with her. It isn't even encouraged. But should you choose to speak with her, she has a message for you.
"The other students are waiting to say goodbye. They're on the docks."
After the quest:
"Thanks for saving us! Good luck out there!"