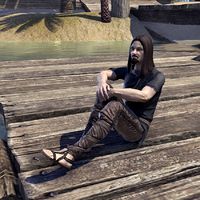 Raylen is a Breton commoner found on the Sentinel Docks after you clear the Ra-Netu by completing the quest Risen From the Depths. He is located on a small lowered pier due west of the Warehouse on the east side of the docks.
He apparently lost his wife and laments her death.
"My wife … she didn't even like fishing, but I bullied her into it. I thought it would make for a fine afternoon. I'll never forgive myself."