Qyss Tedas
Home Settlement
Narsis
Location
In her house, ground floor
House
Tedas House
Race
Dunmer
Gender
Female
Health
39959
Reaction
Justice Neutral
Pickpocket
Hard
Profession
Outlaw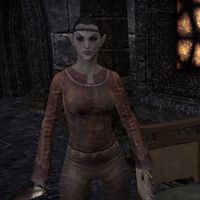 Qyss Tedas is a Dunmer outlaw located on the first floor of her house in Narsis. She is Madras Tedas's relative.
Related Quests
Edit
"You must be here for the secret meeting. Sign in and head downstairs. Madras has already started."