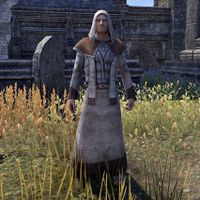 Priest Colby Rangouze is a Breton priest found in the cemetery located near the Temple of the Divines in Wayrest.
"Honor the spirits, both living and dead."
After the At-Tura Estate objective:
"How many lives were lost to the Fervor? Only Arkay knows."
I'd like to learn more about Arkay.
"Arkay keeps the balance of life and death. He is there when we're born and will be there again when we die.
Because of this, he is both loved and feared."
Because many fear death?
"Not only death itself, but the cause as well. Arkay may be many things, including famine or plague or natural disasters. He must maintain the balance.
This also explains his disdain for necromancy. To undo his work is the greatest form of blasphemy."