Redguard stories say that when the Ra Gada first arrived on these shores, they found Nilata still inhabited by Elves. Having fought the Lefthanded Elves on Yokuda for a thousand years, wherever the newcomers found Elves in Hammerfell, they exterminated them.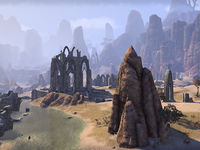 The Nilata Ruins are large Ayleid ruins located in western Bangkorai, north of Hallin's Stand.
Related Quests
Edit
Nilata Ruins Objective: Defeat the Daedra within Nilata.
To Aid the Enemy: Rescue Imperial soldiers who were lured into some Ayleid ruins.
Wayshrine
Edit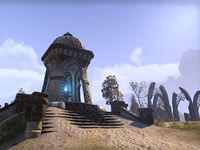 Nilata Ruins Wayshrine is located to the east of the ruins near the lake, south of the entrance to the Sunken Road.