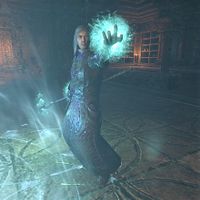 Necromancer Otho is an Imperial and one of Zumog Phoom's necromancers found in the Sepulcher of Mischance.
Related Quests
Edit
Cadwell the Betrayer: Stop Zumog Phoom before he can unleash Cadwell the Betrayer on Northern Elsweyr, and find a way to use the Dragonhorn.
Approach him and he'll scream, "No! I won't allow you to interfere with the ritual!" During the battle he'll taunt, "I will flay the flesh from your bones!"