The Narsis Ruins include the foundations of the first structures built here when the Chimer came out from Summerset, and the new town was known as "Narsis-Where-All-Fervently-Praise-the-Prophet-Veloth." Eventually the name was shortened.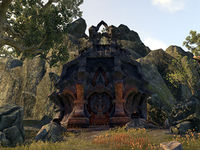 The Narsis Ruins are ancient Chimer ruins running underneath the town of Narsis.
Two notes can be found in these ruins, A Tally of Villagers, and No Praise for False Gods.
Related Quests
Edit