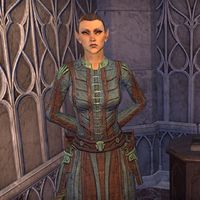 Nalinril is an Altmer who can be found at the Mages Guild in Lillandril, where she serves as the hall's Magister.
"By the Stars, one whisper of the name Artaeum and the initiates can talk of nothing else. Have we no studies to attend to? Research to compile?"
"I've tried several times to obtain an audience with the Kinlady, but she's declared to be endlessly indisposed. Either she has a weak constitution, or I am undesirable company."